Residents Find Friendship at North Oaks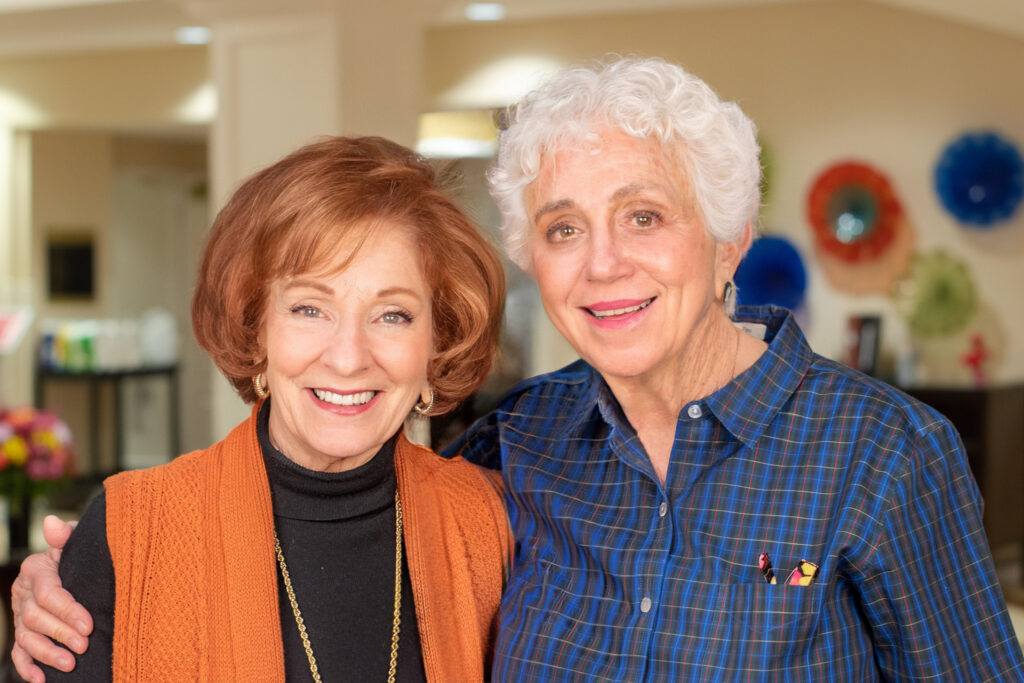 Bobbie Rosenberg was in the midst of one of the most difficult periods of her life when she moved to North Oaks in July 2021. Bobbie's husband of 63 years, Shelly, had recently passed, and Bobbie was living with her daughter and son-in-law in Marriottsville. Preparing to move yet again was a daunting thought for Bobbie, who had relocated across the country to Maryland in 2020 from her home of 40 years in Palm Desert, California, when caring for Shelly became too difficult to manage on her own.
Despite the difficulties she had faced, making the move to North Oaks turned out to be one of the best decisions of her life.
Shortly after settling into her new home, a mutual friend introduced Bobbie to Gloria Greenspun, who has been a North Oaks resident since March 2017. From that point forward, Bobbie and Gloria have been nearly inseparable.
The relationship started as many do at North Oaks – over a meal in the dining room one evening. Bobbie and Gloria started having more meals together, and soon realized just how much they had in common. They found themselves participating in many of the same programs that North Oaks offers its residents, including lectures, musical performances, and exercise classes.
Before long, Bobbie and Gloria's relationship had expanded beyond the walls of North Oaks' Pikesville campus. The duo, along with two other close friends, celebrates each other's birthdays at a local restaurant – The Grill at Harryman House in Reisterstown. "We have a waiter that we request every time, and he takes care of us," Bobbie noted, laughing. "He loves us, and we love him," Gloria added.
They've also become close with Rabbi Mendy and his wife Chaya, who come to North Oaks twice every month for the Torah & Tea program. Gloria and Bobbie were even invited to their son's Briss. "That baby is just exquisite," Gloria gushed.
When Bobbie's son visited from Michigan, Gloria joined them for a brunch outing. Bobbie also had the opportunity to meet many of Gloria's friends and family during her 85th birthday party at North Oaks.
The two women truly feel that there is something special about their relationship – that they were meant to be friends. In addition to the many hobbies and passions that they share, Bobbie and Gloria are the same age, and they were married just one day apart in 1958. They also frequently finish each other's sentences.
When asked what she likes most about Bobbie, Gloria didn't hesitate. "Her honesty," she said. Bobbie appreciates the fact that she can talk openly and candidly with Gloria.
The ladies also share a love of North Oaks. When her husband passed, Bobbie found that what she was missing most in her life was conversation with others. "I have that here," she said. "Even something as small as walking down to my mailbox, I'm often stopped by a neighbor to have a nice chat. Conversation is very important to me."
Gloria is grateful for the group of friends she has found at North Oaks. "They are very dear to me," she said. But she also stressed the significant role the staff has played in her life since she moved to North Oaks almost six years ago. "You can almost give the North Oaks staff equal billing as my friends, because they provide everything a friend should – help, conversation, advice, or just keeping you sane."
Gloria told a story about Teddy, a security guard at North Oaks, helping her move a heavy chair in her apartment. Gloria mentioned to Teddy one afternoon that she needed help – and Teddy was more than willing to provide assistance. He asked Gloria to give him a call when she wanted him to come up. Gloria forgot to call Teddy, but sure enough, later that night he showed up, rung her doorbell and asked her if she still wanted him to move the chair. "If you need help, there's someone here you can go to and feel very comfortable with," she said.
Born and raised in the Baltimore area, Gloria has spent her entire life living in Maryland. Bobbie hails from Texas, but also lived for a short time in New York before spending 60 years in California.
Although they spent the majority of their lives hundreds of miles apart, North Oaks brought them together. The community has given them a home that they love, but also a cherished friendship.